Category • Best Coffee Buying Guide
A scrumptious guide to coffee and food pairings
Ollie Poole | November 12, 2023
Move aside wine and cheese. It's time to give coffee and food pairings the spotlight. Like the former, finding the right match for your coffee can revolutionise your tasting experience. In this blog – we look beyond your morning croissant and champion mouth-watering marriages your tastebuds will forever be thankful for. From iced coffee and melon to something extra velvety for your cappuccino.
Coffee and food pairings – where to start?
Finding the best food to have with coffee requires taking a look at your coffee first. The origin, roast, aroma, body, sweetness and mouthfeel all dictate which foods will match – as well as the type of coffee.
A palette-pleasing pairing is the difference between diluting flavours and skyrocketing them into ecstasy. For example: a soft cheese like Brie gets squashed by a strong, rich black coffee. Whereas pairing a milk chocolate flavoured coffee with a pain au chocolate gets you a fast-track ticket to chocolate heaven.
Hungry, yet? Here are fantastic foods that pair well with coffee.
Black Americano with a croissant
Photo by @hopefilmphoto via Unsplash Images
A morning classic born in France. Peeling off a flaky, buttery croissant to wash down with black coffee welcomes any working day. We recommend choosing a slightly sweet coffee (with low acidity) to balance the croissant perfectly. Other delicious options include a pain au chocolat with chocolate-flavoured coffee and a vanilla latte with an almond croissant.
Discover More: One-touch bean-to-cup machines for coffee lovers
Espresso with dark chocolate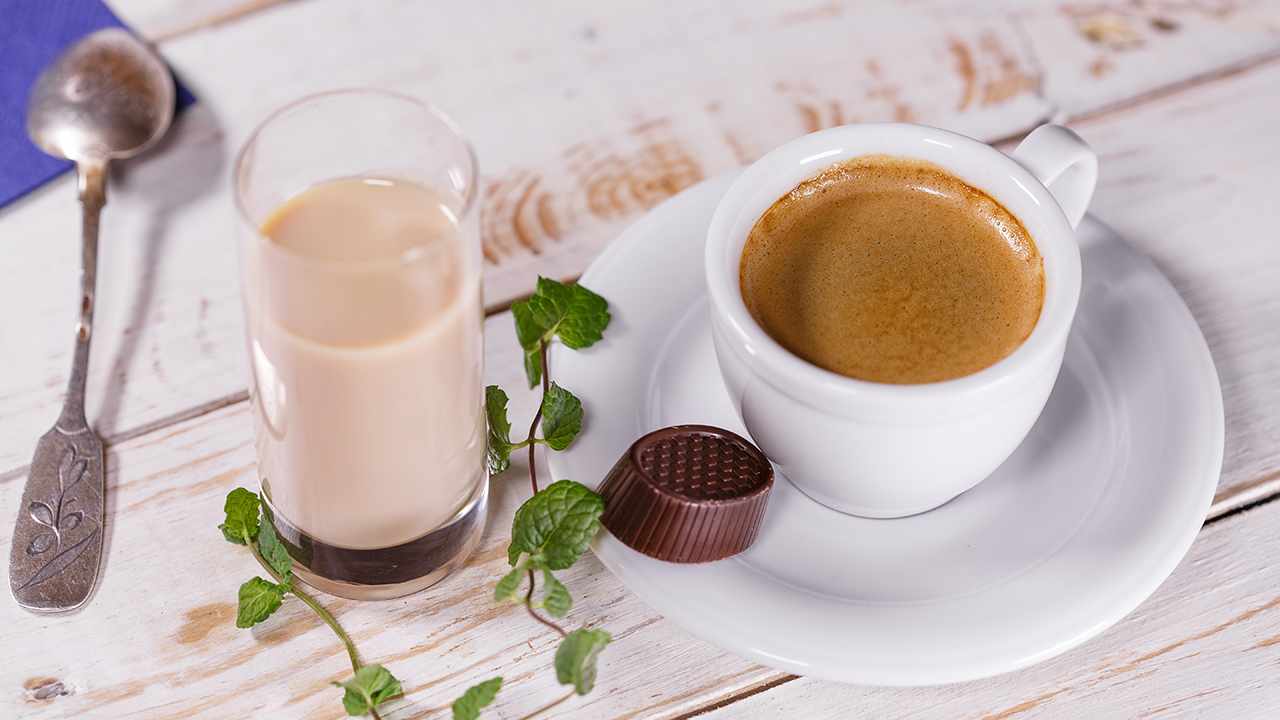 Photo by @scorpionr via Unsplash Images
Espresso needs a bold flavour to match its richness. That's why we recommend dark chocolate (with its slight bitterness). As well as a nutty biscotti for that satisfying crunch – perfect with creamy, smooth, medium-roast Arabica coffee.
Mature cheeses with sharp flavours (plus fruits like figs, plums, peaches, raspberries and apricots) also pair well with espresso.
Discover More: Coffee Glossary (The Complete A-Z Guide)
Cappuccino with tiramisu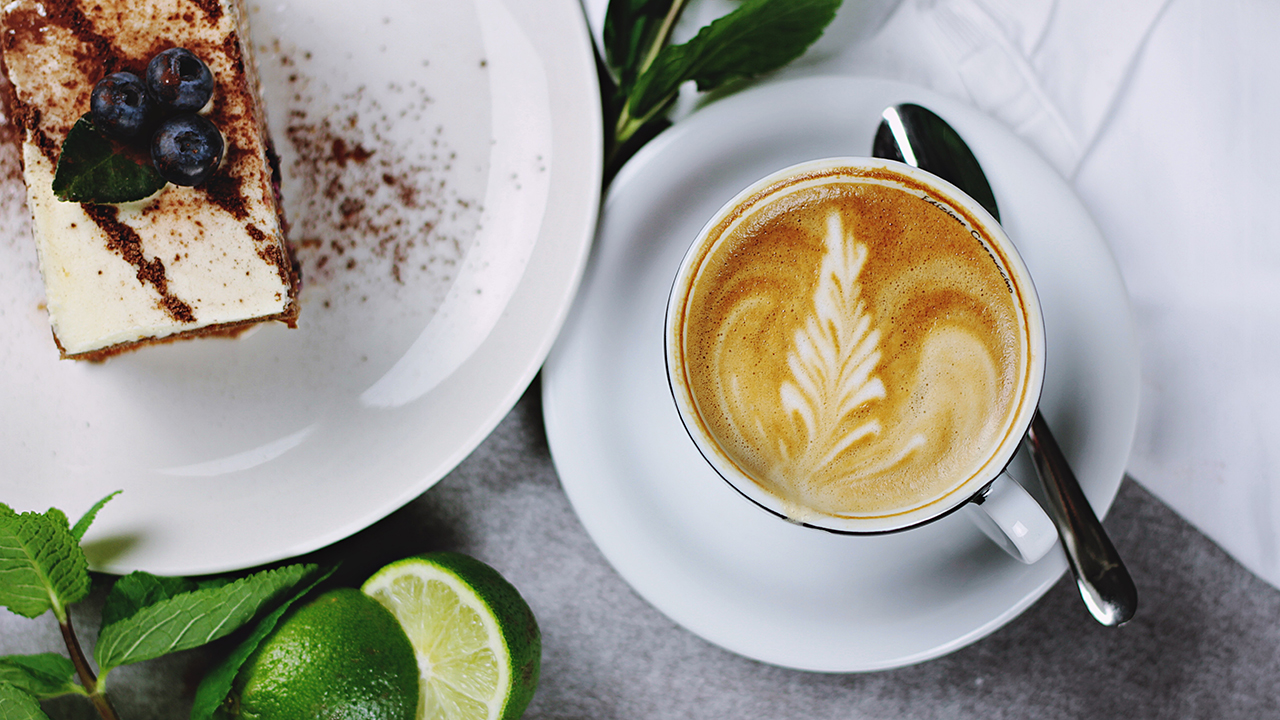 Photo by @heftiba via Unsplash Images
Did you expect to hear that cappuccino and tiramisu in the same breathe today? The soft feel and milky magic of a cappuccino is best enjoyed with sweeter, fluffier foods. This means tiramisu's velvety gooeyness marry cappuccino's milky frothiness beautifully – making an addictive combination. Add cannoli to make a for a Sicilian combination. And you can pair with banana bread and red velvet cake for even more bliss.
Latte and flat whites with tarts and cookies
The lighter, more delicate mouthfeel of a latte pairs up deliciously with subtle tarts and cookies. We can all agree on the deliciousness of that crumbly sweet goodness, washed down with a majestic sip of milk foam. Big favourites include a peach and almond tart, lemon start, blueberry tart, as well as apple and raisin cookies. These all make a gorgeous coffee and food pairing for a client meeting. Bonus mention: Try a piccolo with a bakewell tart.
Mocha with double-chocolate brownie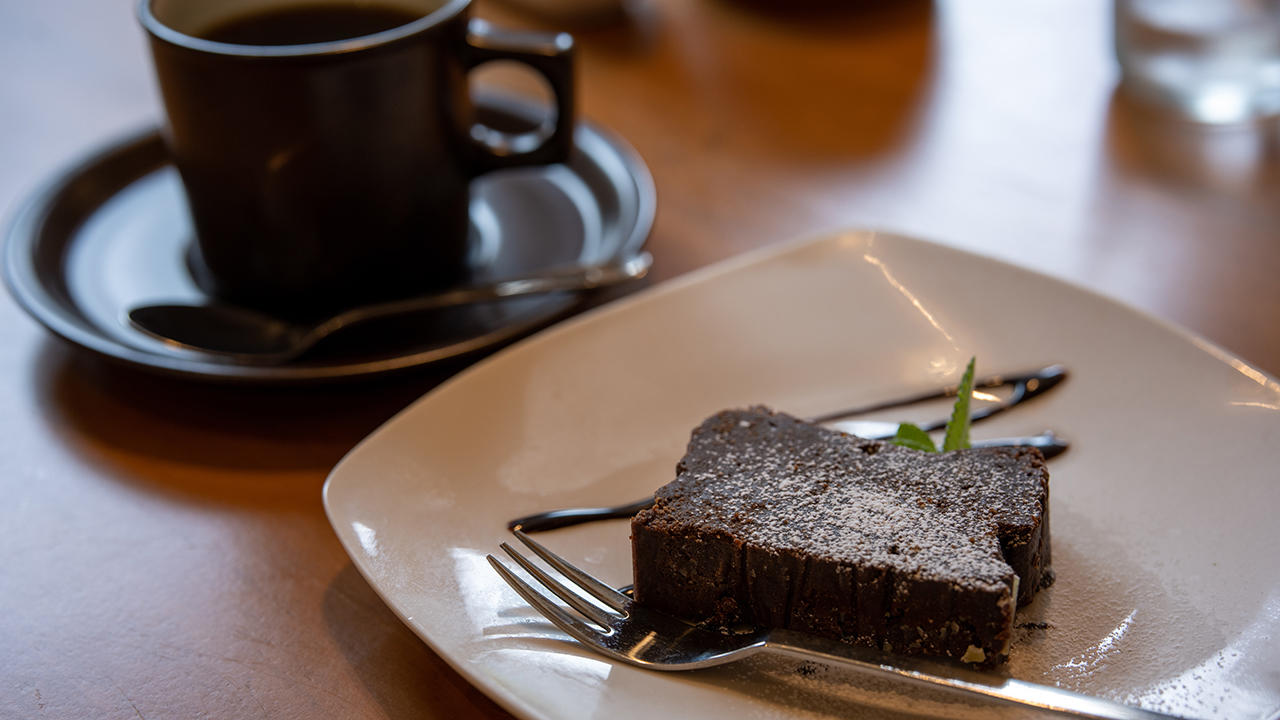 Photo by @pafuxu via Unsplash Images
Picture this. You're flagging at 3pm during an office afternoon. You need a chocolately pick-me-up to propel you to 5pm. Packed full of flavours that'll dance on your tongue into the evening. Enter: mocha with double-chocolate brownie. We guarantee this pairing will always come back to you.
Discover More: Get instant mochas in your office with the F5 Egro Next.
Iced coffee with prosciutto and melon
Feeling cultured? We can tell. Inspired by the Italians, drinking iced coffee with prosciutto and melon is about to become your refreshing cultural favourite. Wherever you are — the cool and lightly sweet feel of the iced coffee blends with the salty prosciutto and juicy, sweet melon. Perfect for a warm summer's day, substituting cherry cold brew for iced coffee also works wonderfully.
Rich coffee flavours with grilled cheese
A savoury special: try pairing a hot grilled cheese sandwich with a rich and robust black coffee. The strength of flavours complement each other and combine to hit you with a midweek lunch you'll remember.
Discover More: Why you should take a proper lunch break
Tips for foods that pair well with coffee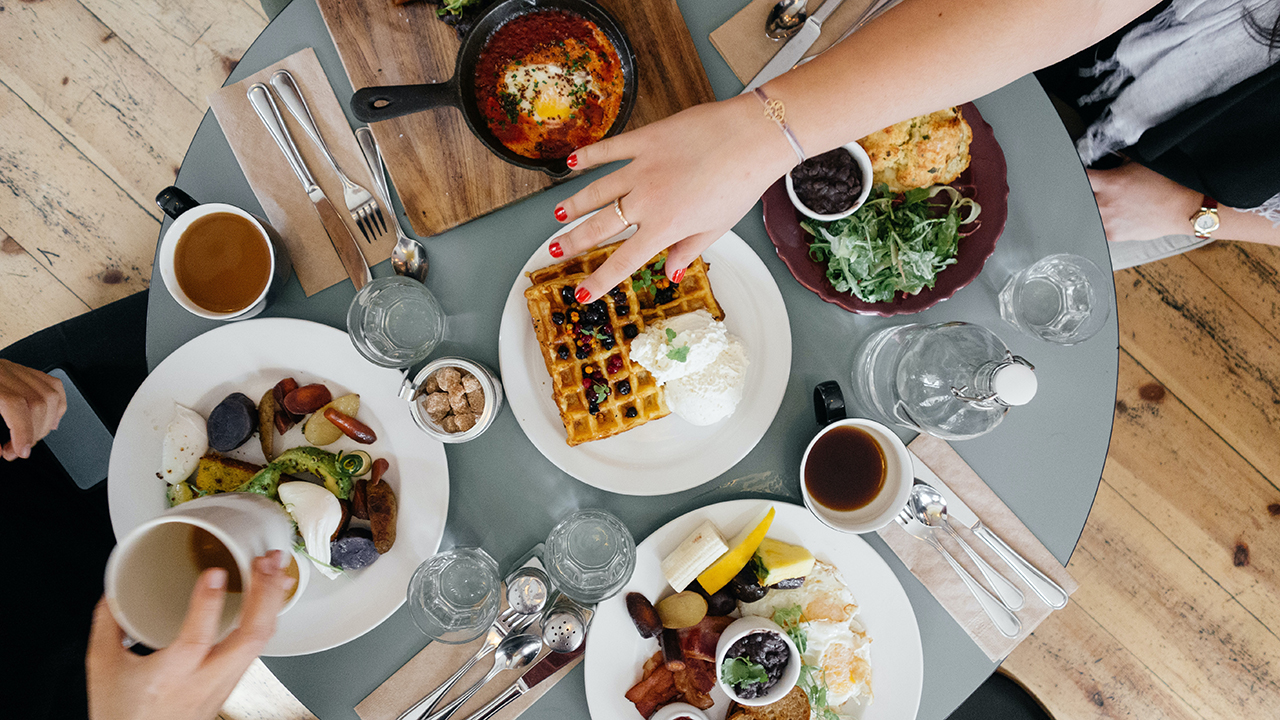 Photo by @inayali via Unsplash Images
If you're deciding what premium coffee and snacks to stock your workplace – here are a few recommendations to treat your tastebuds.
Coffee cake complements a Nicaraguan medium roast.
An affogato is food and coffee combined: an espresso poured over ice cream.
Toast pairs best with Colombian, Costa Rican, or Guatemalan coffees
It works to match coffee acidity with food. Meaning highly acidic coffee pairs with citrus fruits.
A full English breakfast and a Sunday roast with beef or chicken can pair with a medium roast coffee with a full body.
Rice pudding pairs beautifully with a dark roast coffee, which has vanilla and cinnamon flavours.
Pairing spicy foods with coffee helps enhance the spices. (Try siracha on your eggs with your next brunch).
Feeling inspired?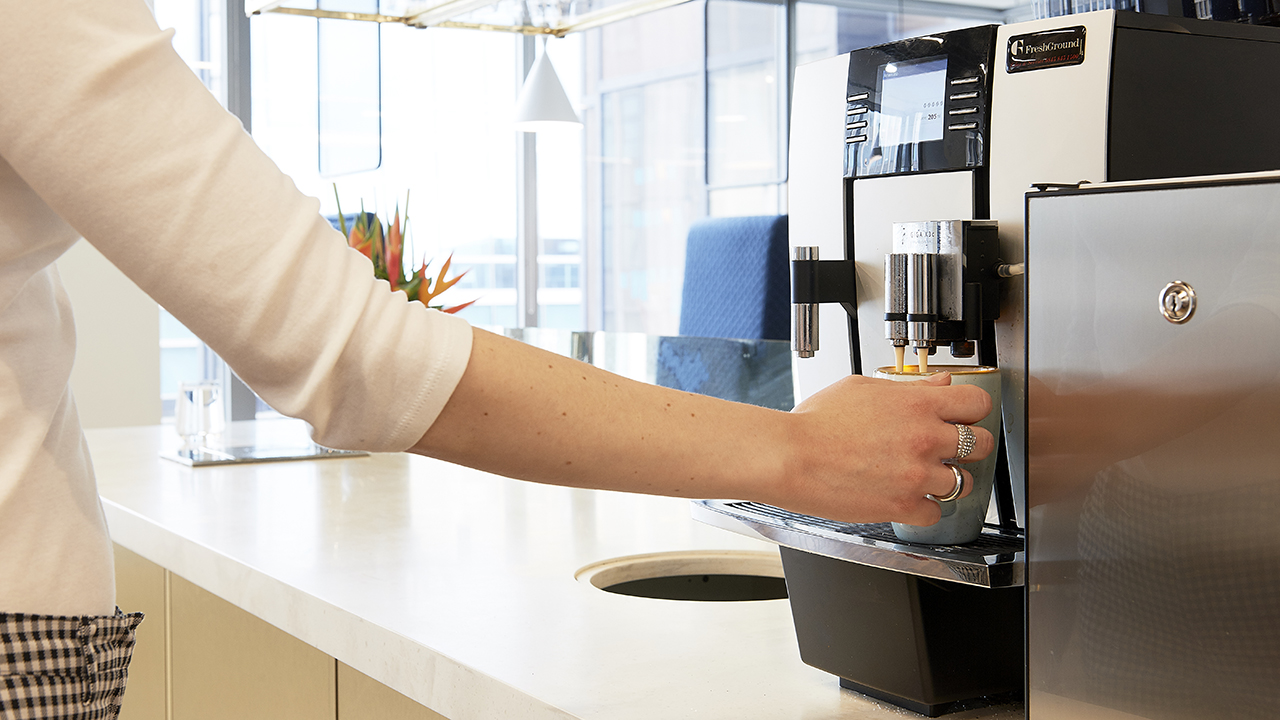 F3 Jura Giga X (office coffee machine)
Ready to show your employees how much you value them by providing barista-quality coffee (and food pairings) in your office? Then get in touch via email (hello@freshground.co.uk) and phone (020 7553 7900) – we'd love to help.