Category • Blog articles
Our top three tea and coffee drinks to enjoy this Autumn
Alex | September 16, 2022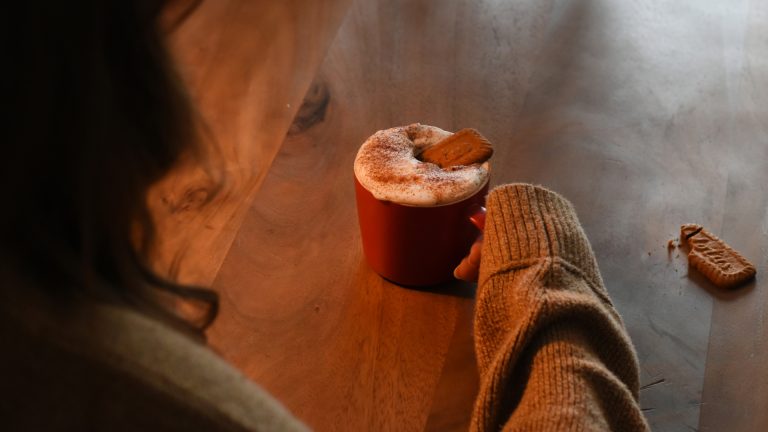 Autumn is well on the way and with that, we can look forward to harvest time, leaves changing colour, nights drawing in and cooler temperatures. It's also the season for cosy jumpers, warm scarves, and autumn-inspired tea and coffee drinks.
As high street coffee shops like Starbucks, Costa and Caffè Nero all reveal their autumn menus, we've put together our own unique drink recipes to rival them. With many of us trying to cut down on non-essential items, making your own coffee shop-inspired drinks can help save you money. Plus, you can easily make these drinks in the office and enjoy them with colleagues and friends.
Caramel Earl Grey tea
Tea lovers rejoice because this is a special Earl Grey tea recipe that's sweet and delicious. Our recipe uses oat milk as it adds an extra oaty taste that complements the caramel flavour. However, you can just as easily make this with dairy milk or any other alt-milk that you fancy.
Simply make your Earl Grey tea as usual by steeping your tea bag in boiling water. Add a shot or two of caramel syrup and stir well. Then pour some warm milk and finish it with a caramel wafer placed on top of your mug, allowing the caramel inside it to melt. Delicious.
Biscoff hot chocolate
Hot chocolate is an autumn favourite, so what better than adding the unmistakable flavour of buttery Lotus Biscoff biscuits?
Just break up some Biscoff biscuits into crumbs and add to your cup. Dispense a hot chocolate from your office coffee machine (or make-up with some instant powder) and then stir so the biscuit crumbs all soften. For a smooth consistency, blend it with a handheld mini whisk and top with whipped cream and a sprinkle of cinnamon to finish. We like to enjoy a couple of extra Biscoff biscuits with it for an extra treat.
Snickerdoodle latte
You'll likely be familiar with this one from the Starbucks menu and it's so tasty, that you'll want to make it again and again. Start off by pouring an espresso from your office bean-to-cup coffee machine. Then in a separate mug, dispense either dairy milk or oat milk from your machine – we used the F5 Egro Next. Then add brown sugar, ¼ teaspoon cinnamon, and nutmeg. Whisk until fully mixed in, then add the blended milk to the espresso. You can top it off with whipped cream and a sprinkle of grated chocolate. Best enjoyed with a good Border biscuit.
If you're in need of a quality coffee experience at work, get in touch with us. We offer free demos for our premium range of bean-to-cup coffee machines, and we'd love to invite you to a discovery session in our London showroom. Just get in touch and a member of our team will help you.