Category • Blog articles
We ranked the 5 tastiest coffee syrups
Ollie Poole | November 16, 2023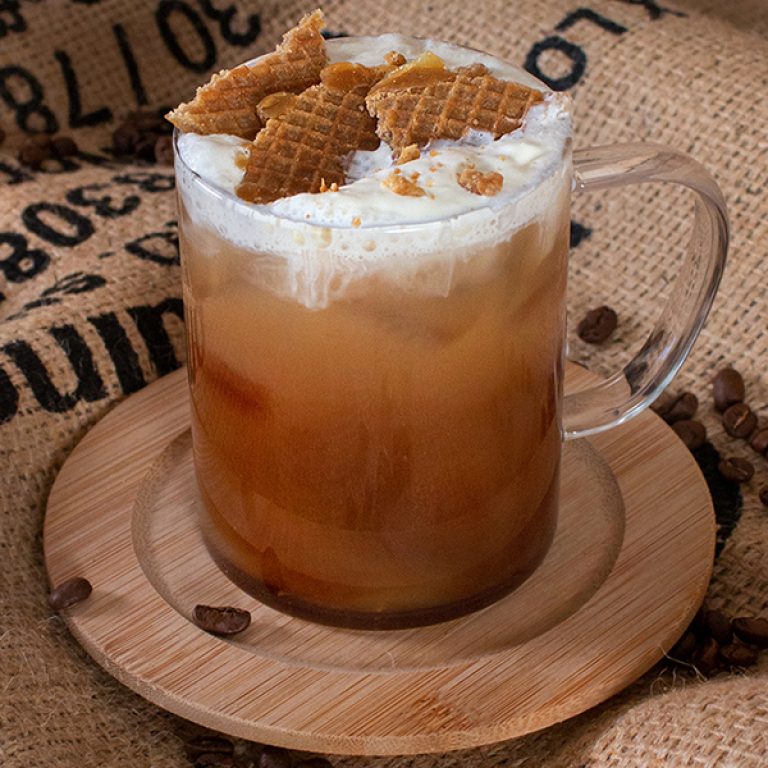 It might be a whiff at a Christmas market, lines of sweet-tooths outside Starbucks or your office colleague holding a salted caramel latte. Either way, it means one thing: syrup season.
With the cold nights closing in, grabbing a hot cup of syrup-splashed coffee is the sweetest way to warm up quick. That's why we rank the 5 tastiest coffee syrups – your dose of indulgent inspiration this festive season.
Coffee syrups are making a splash
Order £400 (or more) coffee and consumables from FreshGround and you'll receive this FREE Monin Coffee Syrup Seasonal Gift Set.
First popularised by Starbucks in 1994, coffee syrups have grown into a consistent craze – contributing to the flavoured syrups market's forecast to hit $65.6bn by 2025. The splash is thanks to their sweet indulgence and versatility – inspiring coffee lovers to get creative with their recipes. From Starbucks' Nutcracker Frappuccino (made with toffee nut syrup) to gingerbread lattes and other winter coffee specials.
For those looking to customise their coffees at home or in the office – you'll need coffee syrups that tingle your tastebuds.
5 tastiest syrups for coffee
Decadent and addictive, just a dash will revolutionise your coffee.
1. Vanilla coffee syrup
Iced dirty chai latte (with vanilla syrup)
Vanilla coffee syrup is a staple. We recommend adding about 25ml into your next latte, mocha, macchiato or iced coffee. An easy way to get started is by placing a coffee syrup dispenser by your office's coffee machine to wow your employees when they arrive on Monday. Vanilla really is the ultimate crowd pleaser.
Feel inspired: Dairy-free Iced Dirty Chai Latte – recipe video
2. Caramel coffee syrup
Caramel syrup latte
Who doesn't love the velvety aura of caramel coffee? Its creativity knows no bounds – so add a dollop to your favourite coffee and you'll never go back. Our favourite caramel mix is a caramel wafer oat latte (see recipe). And whisper it quietly: the salted caramel syrup is just as good.
Discover More: A scrumptious guide to coffee and food pairings
3. Hazelnut coffee syrup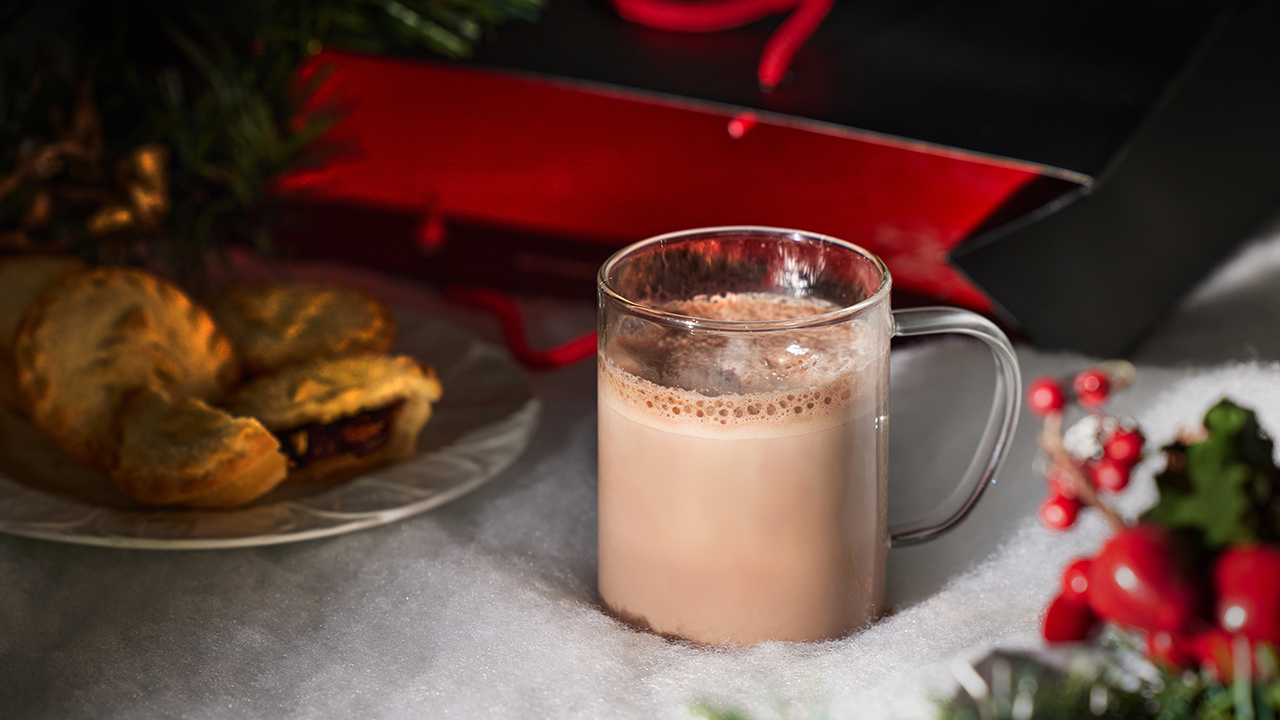 Nutella mocha (with hazelnut syrup)
This one gets us giddy with festive spirit. The nutty goodness of hazelnut syrup goes well with fruit aromas like our Guatemala Antigua Premium Beans. And is a warm hug this time of year. We suggest adding a dash to your next mocha, plus a spoon of nutella.
4. Gingerbread coffee syrup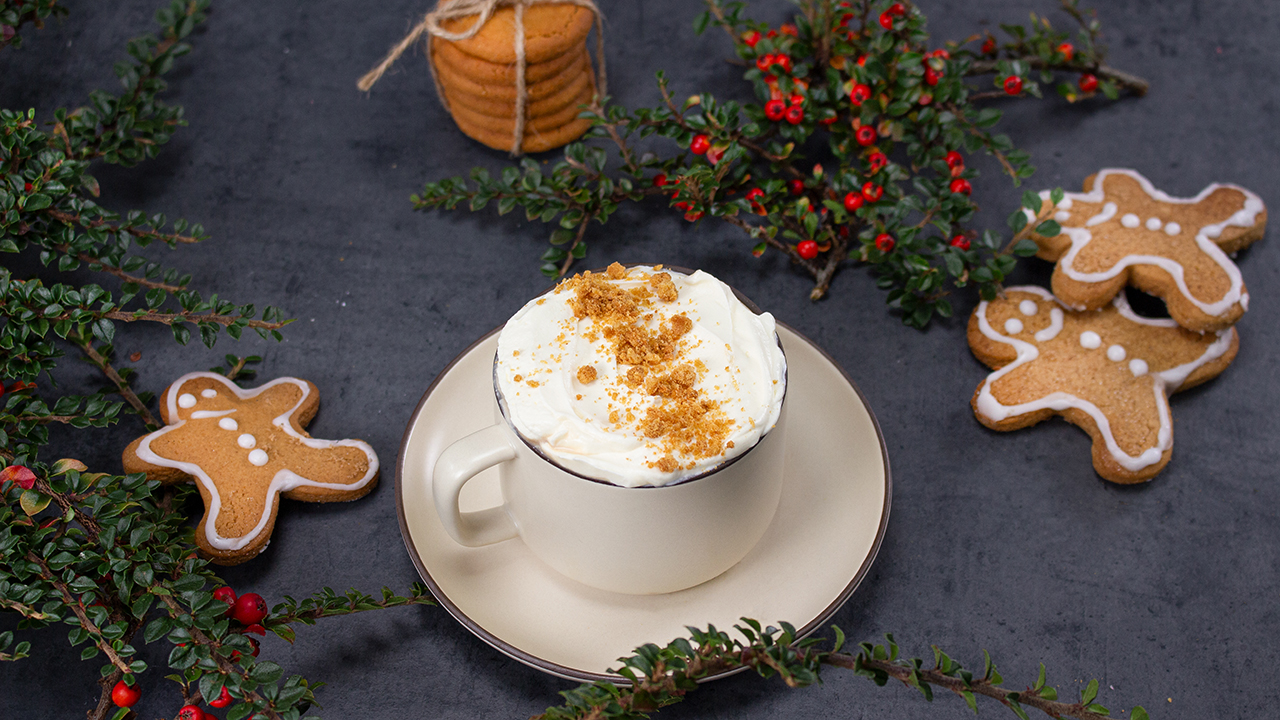 Gingerbread latte (with gingerbread syrup)
Another Christmas cracker, gingerbread syrup is an essential for your gingerbread latte and apple cinnamon spiced latte. To guide your tastebuds to ecstasy: we've compiled a few winter coffee recipes to lick your lips on. (Easy to make in-office and at home).
5. Lavender coffee syrup
Lavender syrup latte (the latest craze)
Ever had a lavender latte? There is no time like the now. This floral syrup is growing in popularity – particularly delicious in frothy oat milk lattes. With a small helping of honey.
Discover More: Iconic ways to use plant-based milks in coffee
Contact us to stock syrups in your workplace
Get in touch via email (hello@freshground.co.uk) and phone (020 7553 7900) to stock up on scrumptious syrups and premium coffee for your office. Your employees deserve the best, don't you think?