W3 Borg & Overström E6
Rent this machine for your office from just £1.89 per day
Sparkling

Hot
Chilled

Ambient
Suggested staff number
Up to 60 people
Perfect for
Medium to large offices
Key features
Available in four configurations: cold & ambient, cold, ambient & hot, cold, ambient & sparkling, or cold, ambient, sparkling & hot
High capacity water cooler that can support larger teams and busy spaces
Can be equipped with Viovandt UV-LED water purification technology
Premium water dispenser available as floor-standing or countertop unit
Optional touch-free foot-operated light SensorBeam dispenser system
With one of the tallest dispense heights of any cooler in its class, the W3 is the ideal dispenser for tall bottle fill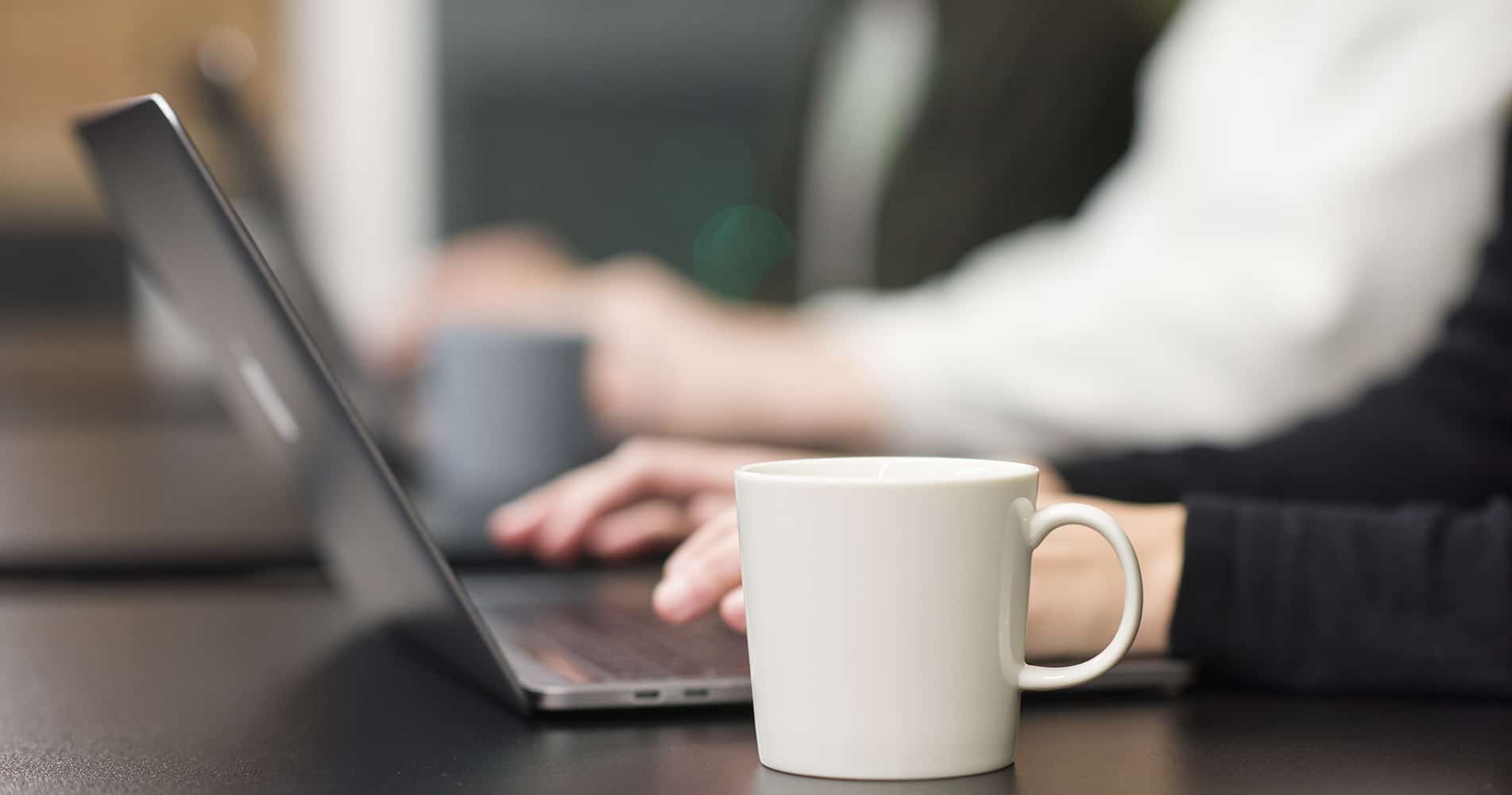 Get in touch
More about the W3 Borg & Overström E6 water dispenser
Available as floor-standing or countertop dispenser, the Borg & Overström E6 is the ultimate high-capacity water dispenser for your workplace.
Can be configured for hot, cold, ambient, sparkling, and combination water dispenser setups
Hot water dispenses at 92°C
Viovandt UV-LED water purification technology
Optional SensorBeam functionality allows for touchless dispensing to minimise the spread of germs
Easy-to-clean, intuitive integrated touch-panel controls and auto-lit dispense area give this cooler a contemporary finish
The floor-standing model comes fully equipped with an internal alarmed waste kit too which prevents the base cabinet waste tank from overflowing – giving you one fewer thing to worry about
The large dispense area is designed to accommodate tall sports bottles and jugs, making hydration simple, and reducing requirement for single-use cups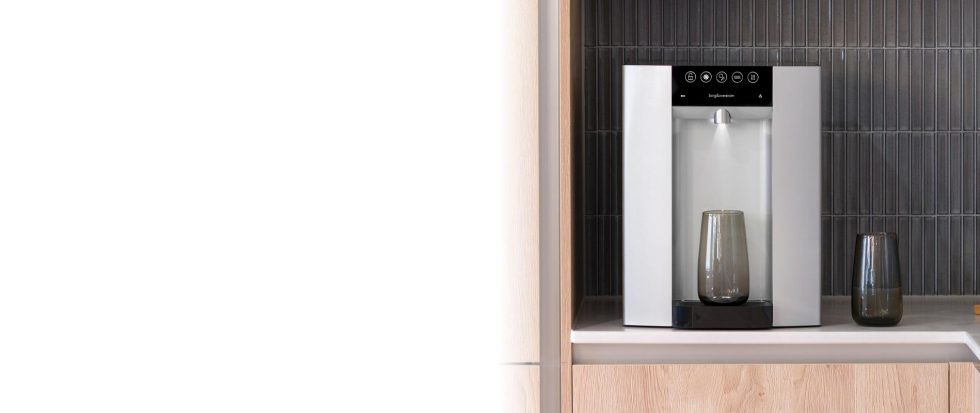 SensorBeam touchless dispense
Introducing the latest innovation in touchless dispensing, SensorBeam. Add this clever piece of tech to your E6 base cabinet, and it will project the different drink icons onto the floor. Break the beam of light using your foot, and the E6 will dispense that water into your glass or bottle. This contact-free solution is the perfect way to crackdown on illness and infections spreading in the workplace via surface contact.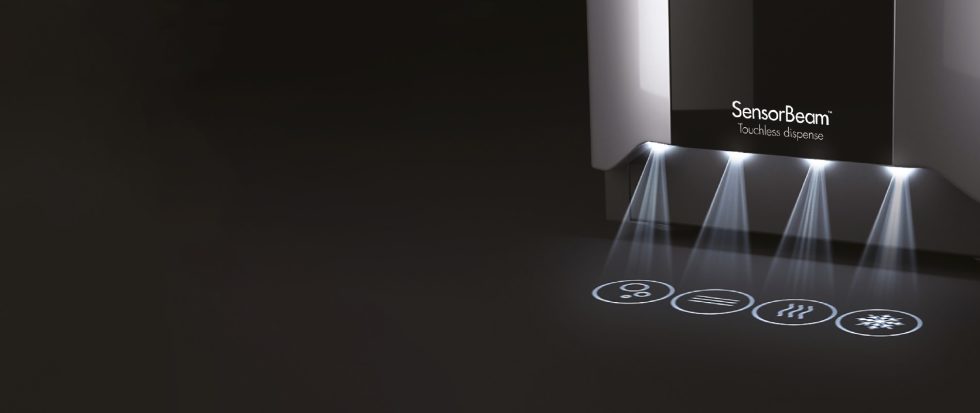 Technical details
Take a look at the technical specifications for the W3 Borg & Overström E6 water dispenser below. If you need any further information, please email or call the team. We're happy to help!
Alternative water dispenser options
Keep your countertops clear from clutter, with one of our compact yet stylish water dispensers and drinking taps. Delivering instant, chilled, boiling or sparkling water with a single touch. How refreshing.
Frequently asked questions
Is there something else you need to know about the W3 Borg & Overström E6 water dispenser? The FAQs below might hold the answer.
Is the W3 Borg & Overström E6 water dispenser the recommended choice for my small office?
The benefit of the W3 is that it can be installed almost anywhere, and offer all the water options your workplace could need. And from just £1.89 per day, it's an affordable office water dispenser option too.
Is it easy to clean and maintain the W3 water dispenser?
Yes! Most of the components simply wipe down, so it's easy to keep the machine clean and in good running order. If you're especially worried about germs and the spread of infection, consider using the Sensor Beam add-on. It projects that dispense icons on the floor, allowing you to choose your water options by stepping on the corresponding light pattern. It's a real innovation and a game changer.
Why should I choose the W3 water cooler?
The W3 offers more options than any of our other standalone water dispenser units, offering all combinations of filtered chilled, ambient, sparkling and hot water. Each configuration also comes equipped with the Viovandt UV-LED water purification system, to give you the highest confidence when it comes to infection control. It can be supplied as both countertop and floor-standing models, and can be outfitted with the extra SensorBeam dispenser add-on. All-in-all, it's our most comprehensive freestanding water dispenser.
Why rental?
Not sure if it's better to rent or buy your office water dispenser flat out? We'll explain why rental is most likely going to work best for you and business.
Short-term contracts and flexibility
Commitment-phobe? Not a problem! We offer short-term, flexible rental contracts from only three months. This means you won't be tied into lengthy lease terms with third-party finance agents. Plus with FreshGround's exceptional customer service, you'll have the option to change or upgrade your water dispenser fuss-free.
Only the best
We only offer the highest quality commercial water dispensers that are built to last, but because of this, they can be expensive to purchase outright. However, if you choose to rent your machine, you'll have no large capital outlay so if your business budget is tight, you can still afford to get the best machine for your office. Oh, and did we mention the rental option is tax-deductible?
All-in-one cost
Choosing FreshGround for all your office water needs will delight your colleagues and clients, and will give you total peace of mind. Our rental contracts offer servicing and maintenance as standard so you won't face hefty call out charges or unexpected costs. Got an issue or a query you need resolving? We've got you! Our expert team is on hand to provide friendly, efficient and timely customer service. Service and support for water dispensers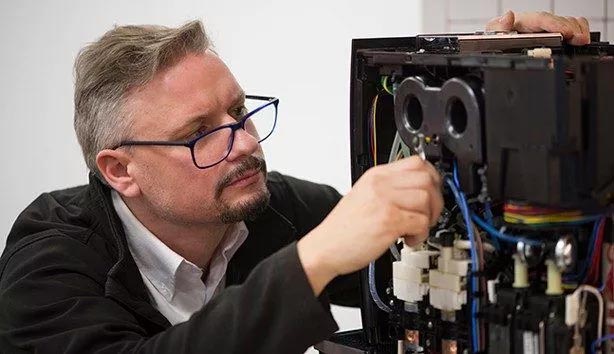 Great customer service is as important to us as it is to you. From proactive servicing and self-support resources, through to on-site visits and call-outs, our friendly client care team is always here to help.
Sustainability & eco benefits of water dispensers
All of our water dispensers are plumbed-in, rather than bottle-fed. This cuts down on single use plastics, making the water dispensers in your workplace better for the environment, and greatly reduces your organisation's carbon footprint.
Read more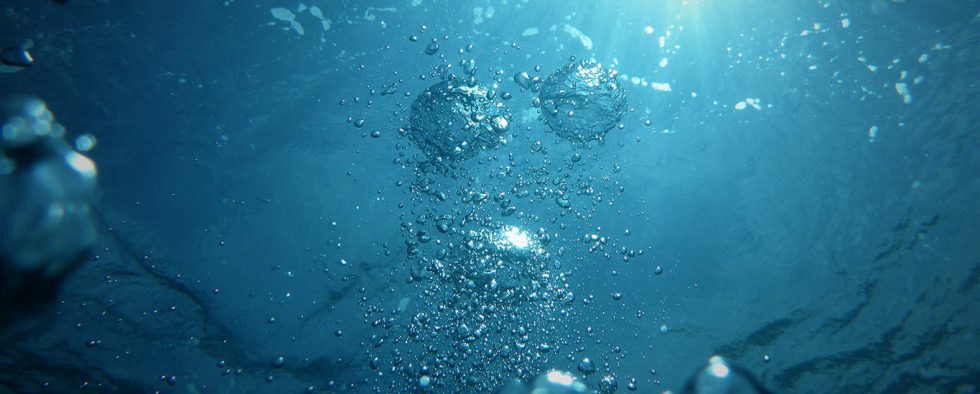 Customer stories
Want to find out more about the FreshGround experience? What better way than to hear it straight from some of our customers!